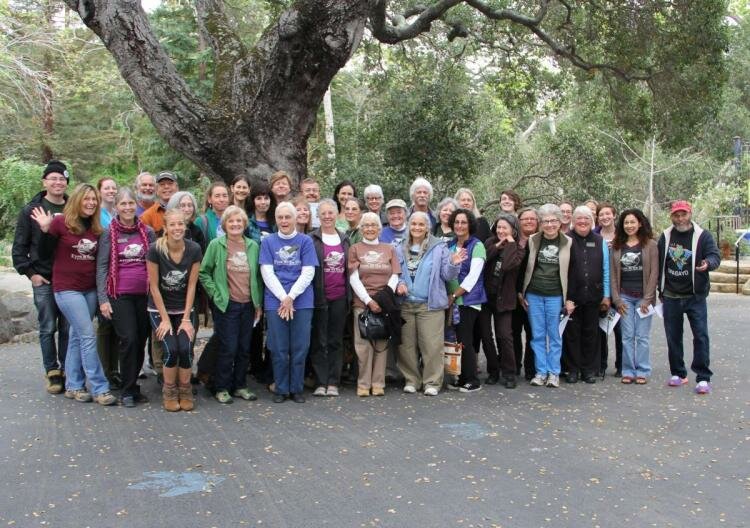 Eyes in the Sky (EITS) has been Santa Barbara Audubon's key wildlife education program since 2000. It features seven birds of prey that serve as education ambassadors. All were rescued and rehabilitated and, due to permanent disabilities, can no longer survive in the wild. They were adopted from wildlife rehabilitation centers that would have been required, by law, to euthanize them.
EITS is the only licensed raptor education program in Santa Barbara County. The birds' live presence and their unique stories of survival educate about impacts of human activities, good and bad, and foster respect and understanding for wild species and their habitats. EITS has one paid staff, the Program Director, a part-time paid Administrative Assistant, and 45 volunteers, 40 of whom care for and/or present the birds to the public.
The majority of EITS' off-site programs take place in public elementary schools, Boys & Girls Clubs, and after school programs. EITS' focus is on educating children in our lower-income areas, where children have few opportunities to experience nature and wildlife. Through our live birds' visits, neighborhood bird walks, and field trips to nature locations, they learn about local birds, including how to identify them by sight and sound, how to approach birds and other animals respectfully, and how they can help to assist their future survival (keep cats indoors, dogs on leashes, pick up fishing line and trash, put up bird feeders, etc.).
Our programs consistently receive high praise from principals, teachers, students and other organizations we present to.
Our volunteers provide our birds with the highest quality of care, including daily outdoor recreation time and field trips to wild places.
Eyes in the Sky's Founder/Director Gabriele Drozdowski has worked with wildlife for the past 24 years, rehabilitating over 3,000 wild injured, orphaned, oiled and displaced birds, between 1991 and 2008, and presenting over a thousand live bird programs since the year 2000. Ms. Drozdowski is originally from Germany.